Del Mar Engagement Rings
Searching for the perfect engagement ring in Del Mar? If you need help finding the perfect ring design that she will cherish for a lifetime and are looking for high quality, value and fine craftsmanship, you may want to consider a custom engagement ring.
Custom Diamond Engagement Rings
Master Diamond Setter and Ring Designer, Vanessa Nicole, works with each client through her process to create a design your future fiance will love. She designs a ring to match her style, taste and lifestyle.
Many think a custom made ring is much more expensive than a mass produced ring, but most traditional jewelry retailers pay high overhead and sales commissions, those high costs get passed on to the consumer. Whereas, Vanessa does not pass you off to a sales person and she personally sources high quality diamonds for your ring to find the most sparkle for value.
Her master craftsmanship shows in the finished product. She ensures that you won't get the many design flaws and gaps that appear in many mass produced rings.
Moreover, your fiance will appreciate the time and thought you took to create a ring that was designed especially for her, that no one else has.
But don't just take our word for it, read our client testimonials and 5 star reviews.
Ryan & Bethany's custom engagement ring CAD rendering
Ryan & Bethany's Engagement Ring Experience
"Words cannot explain how thankful I am to have met Vanessa during my ring shopping experience.
As many guys do when preparing to purchase an engagement ring for the love of their life, I first went to the big name stores and was completely overwhelmed.
I saw a TON of rings, but just couldn't find exactly what I was looking for. I also did not like the fact that many of the rings that I saw looked exactly the same as one another.
I was then introduced to Vanessa and that is when my experience went from negative and hopeless, to positive and exciting.
Vanessa took the time to learn as much as possible about my fiancee and built her the most gorgeous ONE OF A KIND custom diamond ring.
No matter where we go or who we are with, my fiance is constantly receiving compliments on her ring and she absolutely loves it.
Thank you so much, Vanessa! You are a pleasure to work with and I cannot recommend you more highly!"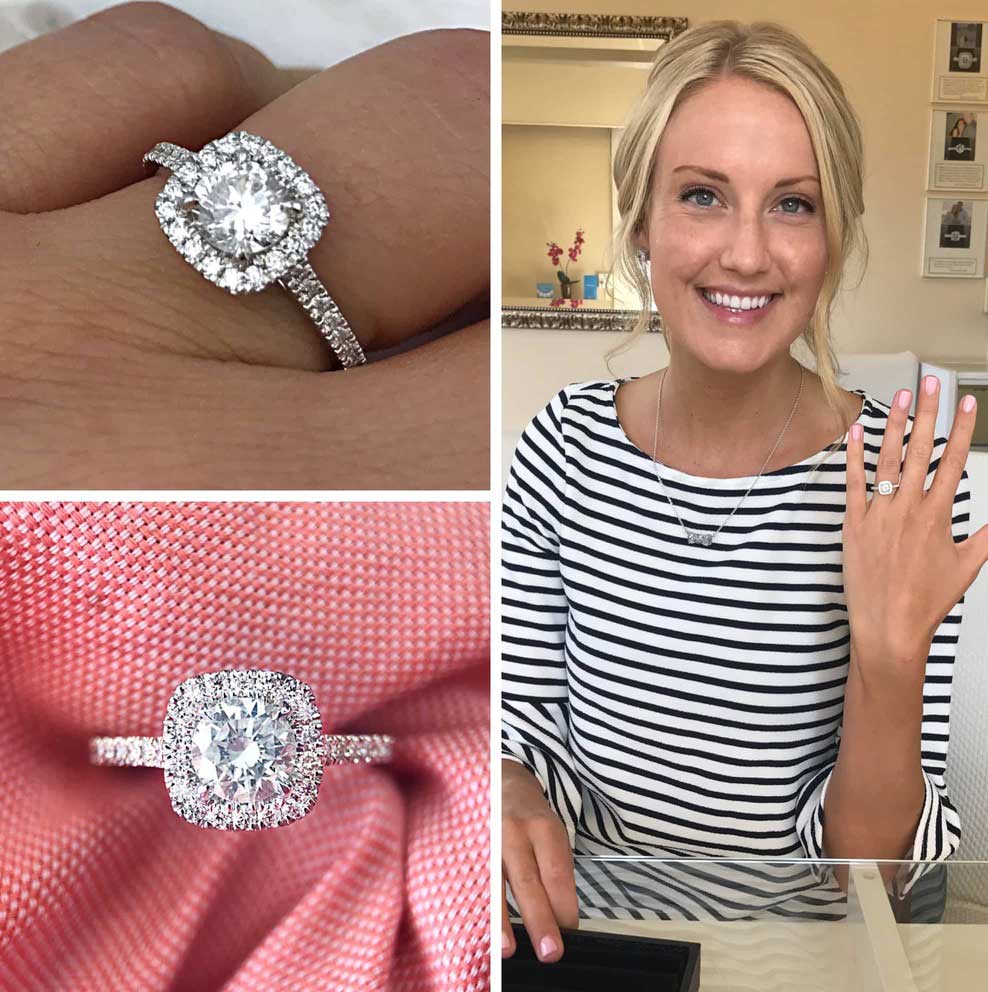 Bethany and her ring.
–Ryan Lien
Meet Vanessa Nicole
√ She has educated over 1 million people about how to create their dream engagement ring via educational YouTube videos.
√ The #1 bestselling author of 'The Perfect Custom Engagement Ring'.
√ A Master Diamond Setter who began as an apprentice to a Russian master jeweler.
√ She has earned a perfect 5 star online rating from past clients.
[CLICK HERE To Learn More About Your Designer]
If you are in San Diego, contact us or make an appointment to visit us. We also work with out of town clients to help design the perfect ring.