Scripps Ranch Diamond Engagement Rings
Have you been looking for engagement rings in Scripps Ranch? If you're like many of our clients that were shopping for engagement rings before working with us you're probably confused, unsure, overwhelmed or maybe a little of all of these.
Many of our clients have come to us because they're not sure if they're significant other will like the style of ring they purchase or worried they're overpaying for a poor quality ring.
Consider A Custom Diamond Engagement Ring
Master Diamond Setter and Ring Designer, Vanessa Nicole works with each client and walks them through her process to ensure they get a diamond ring that will wow and amaze their soon-to-be fiancé. In fact, she has raving fans and hundreds of 5 star reviews to back up her work.
You're probably thinking that a custom diamond ring is more expensive. Traditional jewelry stores have high overhead and need to pay sales commissions. Vanessa personally sources the perfect, high quality diamond for you and knows what to look for so that you're getting the best value for the most sparkle.
Vanessa takes pride in her craftsmanship and labors over every detail in each ring. Many of these details are overlooked when you purchase a mass-produced ring. She ensures diamonds are secure and the design is seamless.
Peter & Jackie's Engagement Ring CAD rendering
Peter & Jackie's Engagement Ring
I proposed on Christmas day. It went brilliantly and the answer was "Yes". Jackie is absolutely in love with the ring. Thank you for everything and Happy New Year.
"My fiancé is absolutely in love with this ring that Vanessa expertly handcrafted. I was initially hesitant to work with someone so far away on an important purchase like this (I live in Texas and travel a lot), but Vanessa nailed every aspect of the experience.
She carefully listened to what I wanted, showed examples of rings based on my description, and had a strong understanding of what my fiancé would love without even meeting her. I liked that Vanessa asked for a photo of us so she could get a more personal connection of who this ring would be made for.
My main focus for the diamond was SIZE, but Vanessa was able to source an excellent selection of diamonds for me to choose from that were not only large, but also beautiful in quality. The ring SHINES more than typical pre-made rings that you see in stores, which is a testament to the quality of fine craftsmanship. My fiancé probably loves the ring more than she loves me! LOL. But in all honesty, Vanessa did a brilliant job with my whole experience, and the ring is everything I hoped it would be and more.
I proposed on Christmas day. It went brilliantly, and the answer was "YES". Thank you for everything, Vanessa!
–Peter Turpin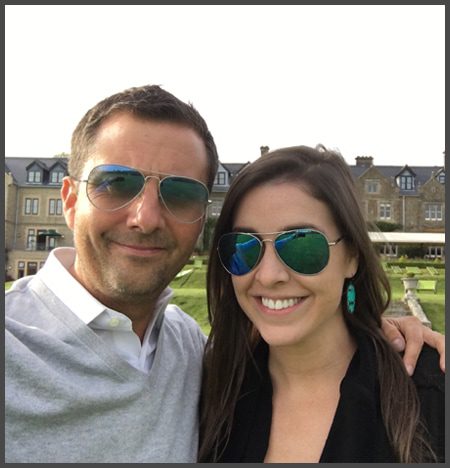 Peter & Jackie
Meet Vanessa Nicole
√ She has educated over 1 million people about how to create their dream engagement ring via educational YouTube videos.
√ The #1 bestselling author of 'The Perfect Custom Engagement Ring'.
√ A Master Diamond Setter who began as an apprentice to a Russian master jeweler.
√ She has earned a perfect 5 star online rating from past clients.
[CLICK HERE To Learn More About Your Designer]
If you are in San Diego, contact us or make an appointment to visit us. We also work with out of town clients to help design the perfect ring.